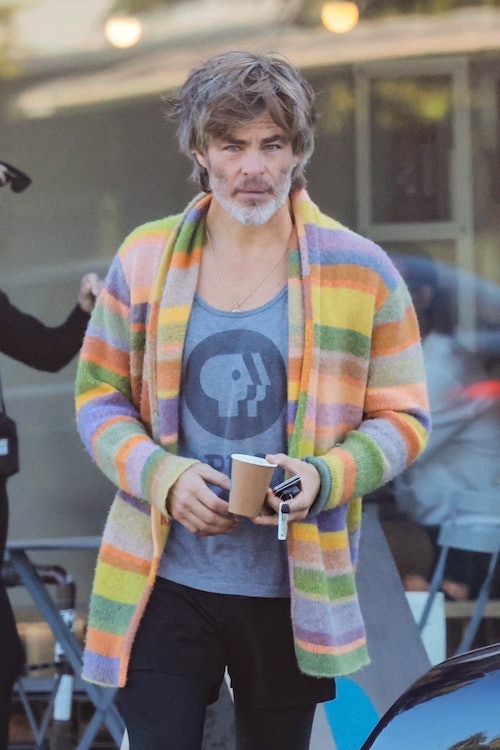 October 26, 2023
How To Get Chris Pine's $2,400 Viral Sweater Look For Way, Way Less
— Terma,SL / BACKGRID
Who says fall weather fashion has to be earth tones only? Chris Pine is daring you to wear a rainbow sweater as you bundle up for the season. The charming and charismatic actor is not one to shy away from making bold statements, and his personal style is no exception. That's why it's no surprise that he went viral for a recent outfit — a brightly colored cardigan, replete with a PBS tank top and leggings. While the sweater — an ultra-colorful cardigan — may be out of reach for the rest of us (it's almost $2,400!) there are plenty of dupes the most color-friendly dad can take into account.
And there's good reason to want to cape Pine's style. With an impeccable eye for fashion and a willingness to take fashion risks, Pine has cemented his status as a style icon who effortlessly blends classic elements with contemporary. He has an eclectic and daring approach to dressing. Whether he's walking the red carpet in a monochrome tailored suit for a movie premiere or grabbing coffee in a PBS tank top – Pine is going with the flow.
As chaotic as his look seems, it just works? And no, it's not just because it's adorned on Chris Pine, although that definitely helps. This is clearly his post-workout coffee and errand run outfit but somehow, he still makes it look chic.
Love the colorful sweater? Luckily, you can create your own look, either dressed up or down — maybe you ditch the leggings if they're not your style.
Cashmere Stripe Italy Smoking Jacket
The Elder Statesman
A main aspect of Pine's style is how he isn't afraid to wear bold colors and mix patterns. He's also not one to stick to seasonality with color – anything goes and the result is a hyper-curated look that doesn't feel too hype-beast and trendy but rather classic and undone.
But you don't have $2,395 to spend on a smoking jacket, or cardigan, or whatever it is. In fact, your budget is more reasonable. Don't worry: ultra-colorful cardigans and pull-over sweaters abound. If nearly $2,500 is too high a swing for one piece of clothing, consider similar looks from Zankov, J. Crew, or Bonobos.
Jonny Colorblock Fuzzy Mohair Sweater
Zankov
Though this is a pull-over sweater, the mohair and chunky color blocks ooze luxury.
Alpaca-blend argyle cardigan sweater
J. Crew
And though this alpaca-blend, argyle-printed sweater is made of slightly more muted colors than Chris Pine's cashmere smoking jacket, it's cozy and could be dressed up or down — depending on your vibe for the day.
Abstract Sunset Crew Neck Sweater
Bonobos