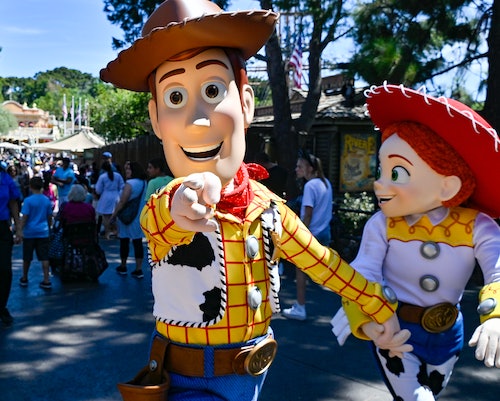 October 25, 2023
Disney Is Making A Pixar Hotel — Let's Pray They Don't Make A Star Wars Mistake
— MediaNews Group/Orange County Register via Getty Images/MediaNews Group/Getty Images
Disney Parks announced their new Pixar Hotel will open soon, and while it sounds like it's going to be unique, we hope it's not going to repeat a major Star Wars hotel mistake. On October 23, Disney Parks announced the new hotel is finally set to open at Disneyland Resort on January 30, 2024, after the park transformed an existing hotel into one that's fully Pixar-themed — the first in the country.
"Pixar Place Hotel will evoke the inspiration and humor that goes into every Pixar film while celebrating the artistic process," the company promises in a press release showing some early artwork of the hotel. "Showcasing early sketches to finished design, the art and decor will highlight vibrant Pixar stories, revealing some never-before-seen artwork."
Let's hope it's a success. Disney's other well-publicized immersive experience in the U.S., its Star Wars-themed hotel, Galactic Starcruiser, was met with enthusiasm but was a notorious flop. The first look at that hotel showed small, window-less hotel rooms and average stays of around $5,000 that essentially priced out families, it's not surprising so many people were turned off by the whole idea. The Star Wars-themed hotel closed two years after it was initially announced.
Is this new hotel, themed after a Disney IP, going to be any different? Possibly. For one, it's not 'truly' immersive — while the Star Wars hotel was an immersive experience for guests, this hotel is simply Pixar-themed. That might make a difference for parents who really want to unload after the end of a day of touring around Disneyland with just the hint of Disney, rather than being totally immersed in it with no way out.
Disney's May 2023 announcement of the reimagined 15-story high-rise, the Paradise Pier Hotel, into a Pixar-themed one, also revealed early looks of the lobby and a Finding Nemo-inspired waterpark. The hotel has remained open while it transitions, and recently Disney shared some more early looks at the hotel's rooms, menu items—and an official opening date.
"Playful Pixar elements have been coming to life over the past few months at Disney's Paradise Pier Hotel at Disneyland Resort, and we're excited to share that the property will officially transform into Pixar Place Hotel on Jan. 30, 2024," the company shared in a new blog post.
— DisneyParks
The first look at the guest rooms already shows more promise in that they're far larger than what was offered at Galactic Starcruiser. We can't see windows in the image provided, but the first look at a typical room has two beds, lots of space, and reasonable Pixar decor.
"From pillows inspired by the Pixar Ball to lighting reminiscent of the Pixar Lamp, there will be whimsical nods to the iconic animation studio throughout these comfortable and contemporary accommodations," the company notes.
— DisneyParks
The rooms will include concept art from beloved Pixar stories, and the artwork will be intentionally "arranged in order from warm to cool colors, sharing the importance of color to the tone of a scene."
— DisneyParks
As far as what the cost of staying at the hotel will be, those details haven't been released yet. What we do know is that the Paradise Pier Hotel — which is considered the "most affordable hotel" at Disneyland currently — costs about $259 per night for a standard view room and that those rates "quickly go above the $300/a night mark," per the Disney Tourist Blog. Whether or not those prices will stay the same or be jacked up to reflect the new experience is currently unclear, but we'd be willing to bet they'll be a bit more pricey than they used to be. But $5,000 for a two-night stay? Perhaps not.
Pixar Place Hotel will officially open on January 30, 2024.