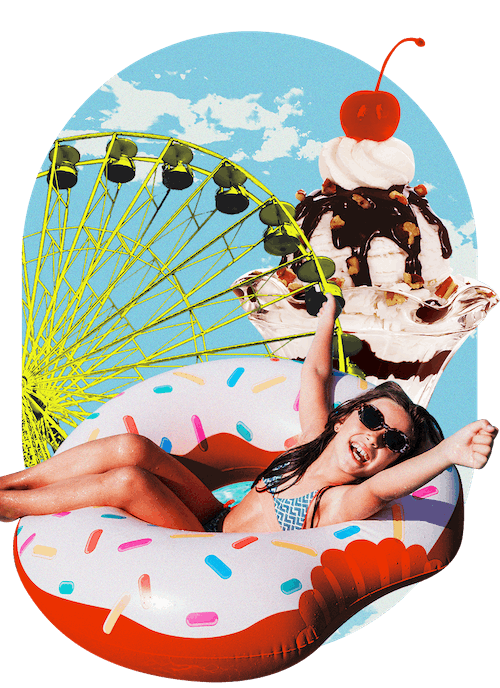 October 26, 2023
45 Years Before Disney World, Knoebels Had Everything A Family Needed. Still Does.
— Emma Chao/Fatherly; Courtesy of Knoebels; Getty Images
If you've never been to Columbia County, Pennsylvania, well, you're not alone. This is farm country, with no real population center — Scranton and Harrisburg are closest, but both are an hour and a half away — and you probably wouldn't even take notice of the 40 minutes it takes to pass through the county on I-80. That is, unless you made a small farm with big thrills your destination. Smack dab in the middle of Pennsylvania lies Knoebels, one of America's most fascinating — and fun — amusement parks. For adults, it's step into the past when amusement parks were cheaper, simpler, more social, and run on tractor engines. For kids — it's an amusement park that makes mom and dad happy. It's an American treasure, pure and simple (oh, and there's no entry free).
Knoebels — 97 years old, some 45 years older than Disney World — is a living museum to American fun. This is true both in feeling and literally: Knoebels is the only amusement park I know of that boasts not one, but two museums alongside its rides and confectionaries. The first is a mining museum that pairs well with both central Pennsylvania's industrial roots and the Black Diamond haunted mine ride which sits adjacent to it. The second is a carousel museum, which ties together the many carousels on the grounds, including the 110-year-old Grand Carousel, one of the oldest (and, crucially, most well-maintained) in America.
There are other carousels, but Knoebels will draw your attention to the non-horsey parts of them — the music-makers, calliopes, Wurlitzers, fairground organs…. Call them what you will, but you'll walk away persuaded that music is the heart of a carousel, and Knoebels gives it top billing for good reason. Take the "Wurlitzer 165," a 116-year-old music machine with its own central plot of land in the park, blasting 165 assorted songs 12 hours a day, seven days a week, next to the gift shop. It's a machine that plays songs from a physical roll — a sort of paper script that triggers horns, drums, and organs through old-timey mechanical triggers. It's loud, and fascinating. I witnessed a child, in awe, sit down on the pavement in front of it and simply stare. Who was playing those instruments? Why was it so loud? What is this thing?
Food, Rides, And Fun For The People
But Knoebels is also very much a vibrant, lively, popular amusement park, going full-steam ahead into a second century. While the family-style meals are cheap and great at the park — the Friday fish fry is a personal favorite — this is a place that doesn't stop you from taking in your own food. Just take that fact in for a minute: You can bring a picnic of any size and the park will happily provide picnic tables, benches, and even pavilions for not one cent charge. Many savvy park-goers take full advantage, and you will find many a huge family gathering full of culinary delights in tin containers — from enchiladas to biryani to burgers and dogs. It's one helluva place for a family picnic.
The thrills too will save you a dime and send you on a unique journey. Knoebels is pay-to-play with each ride costing from $1.50 to $5, and no entry fee to the park, and free parking to boot. What you'll get is, well, a great deal, and something different. Knoebels is home to a trackless coaster, an old-school centrifuge, a flipping Ferris wheel designed in 1948, and of course a giant classic wooden roller coaster that draws wooden-coaster devotees from all over.
Do prepare yourself for a bit of a culture shock in the ride department, because many of them are run like they used to be — by tractor engines. Take the Flyer, basically an open pod with a stiff sail, powered by John Deere. You can pull on the sail gently and enjoy a light glide, or you can pull with great enthusiasm, as my 11-year-old and 6-year-old did, and go banking straight up — and down — and up — and down. It's a wild ride that runs on and on (well over the allotted two minutes, by my count). As I watched, in discomfort (I'll be honest), my kids were slowed down not by a brake, but the down-shifting of an engine — slowly, purposely, loudly. Damn, I thought, this isn't a normal ride.
The kids noticed too, but not in the way I did — they pulled, pushed, and re-created a scene that might well have been played out by their great grandparents, Pennsylvanians who knew their way around a tractor (and a coal mine, for what it's worth). Their laughter pealed over the sputter of a diesel engine working to bring it all to a halt. The noise mingled with adult banter, distant organs playing, the clear splash from the nearby pool, the timeless sounds of a park. Some things never change — they don't have to.
Getting There
Knoebels is open from late April through October. Events vary through the seasons — limited hours in fall and winter; check the Knoebels website for more information.
Cost of entry: Free, as is the parking!
Where to stay: Knoebels is pretty far from, well, anywhere, so you will likely want to stay onsite at one of the many campgrounds (it's a small city), cottages, or a limited selection of bed and breakfasts. Check out their site for more information.