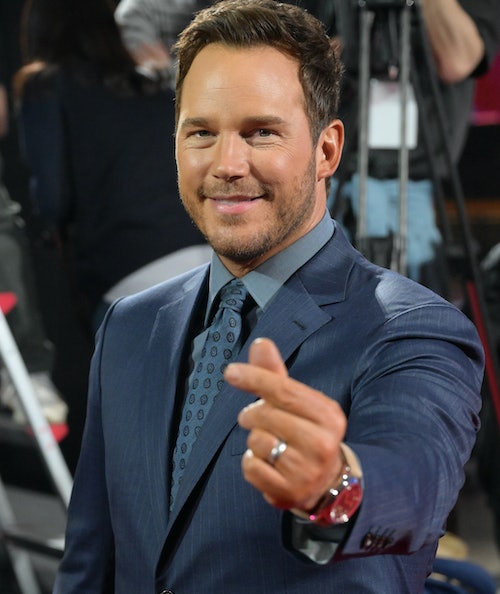 October 26, 2023
Chris Pratt Has A Controversial Question About Kid's Trophies Every Parent Needs An Answer To
— The Chosunilbo JNS/ImaZinS/Getty Images
On Tuesday, October 24, actor Chris Pratt shared a collage of photos featuring his wife, Katherine Schwarzenegger, posing with a dozen trophies of various sizes and colors. You only need to look at them for a second to realize that they're childhood trophies — like the ribbons and trophies you got at the end of your YMCA soccer season or after elementary school math competitions that are either gathering dust in a garage or are long thrown away. But Katherine is surrounded by dozens of them — from "most improved two year old in swim class" to "problem solving superstar in 4th grade," the trophies are decades old and in meticulous shape. And Pratt wasn't sure what to make of it.
"[Katherine's mom, Maria Schwarzenegger,] has been storing special items from Katherine's childhood for years. Which is so very thoughtful," he began his tongue-in-cheek caption explaining why Katherine was surrounded by the awards.
"To see my darling wife beaming with sentiment as she opens these crates of meticulously organized keepsakes, remembering her cherished youth, makes me grateful for the efforts her folks put into archiving," he continued. After lovingly teasing his wife about her trophies, Pratt zeroed in on a question parents wrestle with all the time: Do you have to keep all the stuff?
"But real talk… once your kid goes through the stuff, is it okay to toss?" Pratt asked. "I mean… do we need the 'I was on a sports team trophy?'" He then questioned whether the childhood trophies can be donated or repurposed when your kid's not a kid anymore.
Pratt concluded his rant, asking: "How many do we gotta keep? Not all of them right? Any of them? Is there a grading scale? Like, did you win? Were you a champion? Is there a specific sentimental connection? Help me out here. Do they go back in storage?"
All valuable questions for Pratt to raise, as he's the father of Jack, 10, with ex-wife Anna Faris, and of Lyla, 2, and Eloise, 1, with his wife, Katherine.
There is no one-size-fits-all answer to his questions. You're darned if you do and darned if you don't. Just about every parent has had to take home a dinky plastic trophy for our kids for whatever reason and secretly wondered how soon they can throw it away or whether it will join your kid's already crowded bookshelf.
But there's also a tremendous amount of pressure that parents face to be record-keepers of their child's accomplishments and memories. Do you keep the paper plate Thanksgiving turkey painting your 3-year-old gave you? What about the ribbon for best behavior? What do you save, what do you toss, and what do you regret tossing when you do?
If you don't keep anything, your child might feel slighted when they're older and want to look back at their childhood and have very little to show for it. And there's a lot of missed opportunity to show parts of yourself to your partner like Katherine does to her husband — how else would he know she was the most improved 2-year-old swimmer in swim class?
But rather than keeping all the trophies, here's another suggestion: Just take a photo of the trophy or of your kid winning the spelling bee and call it good enough. Then make a scrapbook. They take up less room, anyway.