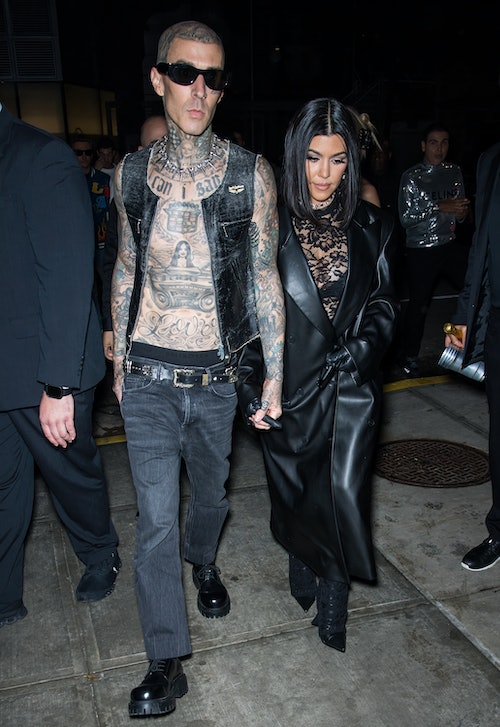 October 31, 2023
Travis Barker Confirms His Son Will Have The Greatest '80s Punk Rock Baby Name Ever
— Gilbert Carrasquillo/GC Images/Getty Images
Travis Barker and his wife, Kourtney Kardashian Barker, are weeks away from welcoming their first child together. There's been lots of speculation from curious folks eager to hear what the couple will name their baby — especially since Barker has made several jokes about giving their baby boy one of the most punk rock baby names of all time. But as it turns out, in fact, Barker hasn't been playing games — he's actually been telling us his baby's name all along.
People reported on Barker's appearance on a podcast episode of One Life Once Chance with Toby Morse, where Barker spilled all the beans on his baby with Kardashian-Barker, confirming what we already know and have wondered might be true for months: They have every intention of naming their son Rocky.
"There's a benefit for Hawaii that we were going to do, but it's the week that Rocky's due," Barker told the podcast host. But is that just a nickname, the kind of place-holder name parents give their baby-to-be to keep the real name under wraps? Apparently not.
The host said the full name of the baby-to-be — Rocky Thirteen — and when Travis repeated it back to him in full, Morse said, "Such a hard name, man," adding that it's a great name for a baby boy. Travis and Kourtney obviously agree!
But here's where it gets really funny: When the host asked Barker when their baby is due, he revealed that this baby really is hardcore AF. The baby's due date is "either Halloween or, like, the first week of November," Barker shared.
We've all been on the edges of our seats waiting to hear Barker's son's name — but apparently, we've known it all along! Back in July, Fatherly covered an interview Barker did for Complex alongside his daughter Alabama Barker when the name Rocky first came up.
"I like Rocky 13," the Blink-182 drummer said at the time. "That's this name that's just been going through my head lately… it's bad," he added jokingly, at the time. The name was inspired by Rocky George, the guitarist for Suicidal Tendencies, and 13, which he said is just a number he loves — and it's considered to be an unlucky one at that.
His daughter made fun of the name at the time. But then, the name reappeared in September when the couple celebrated their baby shower together. One of the decorations at their shower was a "Wishing Tree" that encouraged guests to write messages to future baby Barker and hang those wishes on the tree. Fans zoomed in on one of the written messages, which was addressed to "Baby Rocky."
So, no surprise, these two seem like they will have a very punk rock baby, name and all, who will join their blended family, which includes Kardashian-Barker's three kids — Mason, Penelope, and Reign — and Barker's three kids — Landon, Alabama, and Atiana (a stepdaughter he's raised since she was very young). Congrats to the happy couple!