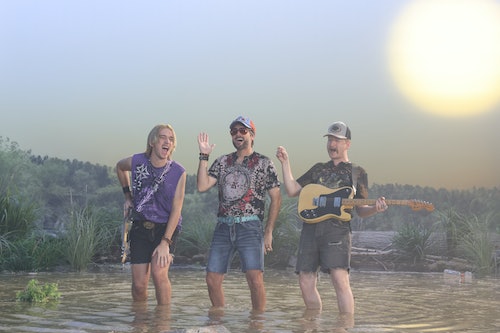 October 30, 2023
The 3 Most Hilarious And Totally Dadcore Nate Bargatze Sketches From 'SNL'
— NBC/NBCUniversal/Getty Images
If you'd never heard of Nate Bargatze before he appeared as the host of Saturday Night Live on October 28, 2023, you probably weren't alone. While not exactly an underground comedian, Bargatze might not yet have the same stand-up comedy fame as somebody like Jim Gaffigan. At least not yet. Because, after his triumphant turn hosting SNL, it's very possible that Bargatze may become your favorite funny dadcore comedian.
As of this writing, the SAG-AFTRA strike was ongoing, but SNL has been back on the air mostly because its actors have different contracts. Still, major Hollywood stars still can't host SNL right now, which was actually a good thing because we got the brilliant Bargatze in this most recent episode.
Here are the three best SNL sketches for this episode, filled with so much dadcore humor, that you'll be an instant convert to the hilarious work of Nate Bargatze.
3. "Lake Beach"
Yep, it's an SNL sketch that makes fun of people from the south. But, because Bargatze is from Tennessee, the humor here isn't mean, it's just straight-up goofy. Bonus points: Dave Grohl cameos as the one uncle who takes cornhole way too seriously.
2. Bartgaze's Opening Monologue
From county fairs to hotel showers to not feeling like he understands how to live in the future, Nate Bargatze's stand-up feels like he's every single dad ever. Somewhat famously, Bargatze's humor is also super-clean, which is both refreshing and clever as hell. Come from the jokes about fighting orangutans, stay for the moment when he can't find his daughter.
1. "Washington's Dream"
How much kicking is involved in football? "There's a little kicking," Bargatze says, as George Washington. This joke is just the tip of how deep this sketch gets about the ridiculousness of the basic absurdities we casually accept every day as Americans. Mostly this sketch skewers our rejection of the metric system waaaaaaay back in the day. But, the deadpan delivery from Bargatze's Washington is a revelation.