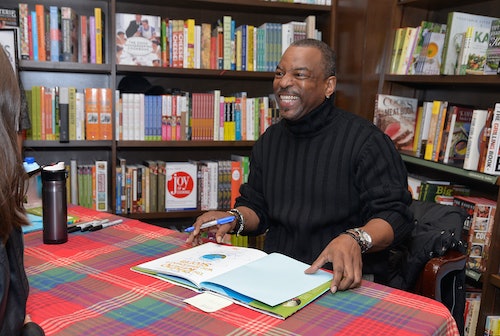 October 13, 2023
LeVar Burton's New Kids' Podcast Is Better Than A 'Reading Rainbow' Reboot — But Don't Take Our Word For It
— Michael Tullberg/Getty Images Entertainment/Getty Images
Here's a wonderful new thing for parents with kids who love podcasts — and for parents who love director, actor, literacy advocate, and podcast host LeVar Burton. The Star Trek and Reading Rainbow legend is behind a new podcast launching on November 1 for kids (and by extension, you!) that combines mystery, storytelling, and the love of learning.
This isn't exactly a revamped Reading Rainbow, mostly because it's not about books, but instead, the power of sound. Though Burton has pointed out many times his support of phonics-based reading education, which means his interest in sound makes perfect sense. The podcast, Sound Detectives, will launch on Sirius XM and is a fictional story that sounds legitimately interesting for parents and kids alike.
Here's the official details:
"Join the legendary LeVar Burton as he steps into the shoes of an inventor, audio enthusiast, and the founder of the groundbreaking Museum of Sound. When mysterious sounds start vanishing, he enlists the help of Detective Hunch, an award-winning private eye, and his new partner Audie the Ear, a 3-foot, 5-inch talking human ear with a knack for solving mysteries."
Brilliantly, each episode will feature sounds from different cultures from all over the world, giving kids an opportunity to imagine a world beyond their own — while also solving mysteries.
What mystery sounds could disappear!? Who knows. What we do know is this will be fun for the whole family — Sound Detectives is good for kids aged five and up and will be ten episodes long, which will drop each Wednesday. Expect each episode to bring you "deeper into the mystery, revealing unexpected twists, personal revelations, and a heartwarming journey of self-discovery."
In January, when the podcast was first announced, Burton shared his excitement for Sound Detectives and for another opportunity to encourage kids' creativity. He already hosts the podcast LeVar Burton Reads, after all, and had the most iconic turn as the host of Reading Rainbow. Plus, the podcast is educational entertainment without the screens — allowing kids to imagine the world being told to them in audio-form, not limited by costume design, what actors look like, or even the real world. I mean, there's a detective that's an ear, after all!
As Burton put it: "It's really about satiating the curiosity of kids, giving them an opportunity to use a different part of their brains and different skillsets than we normally use in a very visually dominated world," per The Hollywood Reporter.
Heck yeah. The first episode of "Sound Detectives" drops on November 1, and you can listen to it wherever you get your podcasts.