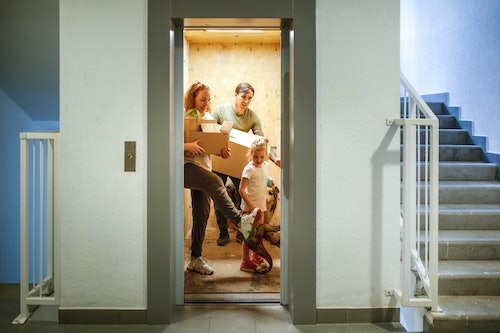 October 27, 2023
It Turns Out Renting Could Be Really Bad For Your Health
— Natalia Lebedinskaia/Moment/Getty Images
Rent a home then buy a home — it's been the path Americans pursuing the stability and profit of home ownership have followed for generations. But recently, that path has become more difficult to traverse for many. Aside from the fact that the median cost of a home in the U.S. is north of $400,000, interest and mortgage rates are enough to stop most Americans from entering homeownership. City dwellers, in particular, cannot afford the absurd housing prices in major metro areas — the median listing price in New York City in September of 2023, for example, was almost $800,000 — so they're stuck in long-term rental situations.
Long-term renting has become untenable, if not downright financially toxic. And a new study finds that long-term renting your home, rather than owning it, could have a harmful effect on not just your finances, but on your health too.
Researchers from the University of Adelaide examined data from 1,420 adult renters in Great Britain. They asked questions related to renting vs. buying, presence of central heat, building type, government aid, and location, i.e., rural or urban setting.
The team found that people who rented their homes showed signs of accelerated biological aging — damage to cells and tissues regardless of actual chronological age. The effects of renting were found to be worse than those caused by the stress of unemployment or of being a former cigarette smoker.
The cost of renting an apartment has risen steadily since before the COVID-19 pandemic, increasing a full 25% since 2019. This has left renters stuck in unaffordable situations with few options for moving on — especially considering the average home price in the U.S. climbed 31% from 2020 to the third quarter of 2023, per some estimates.
"Our findings demonstrate that housing circumstances have a significant impact on biological aging, even more so than other important social determinants, such as unemployment, for example, and therefore health impacts should be an important consideration shaping housing policies," lead researcher Dr. Amy Clair, from the University of Adelaide's Australian Centre for Housing Research, said in a statement.
Clair and her team determined that "the insecurity and poor affordability of private rented homes" were mainly responsible for the negative health impacts. The study also found that "social renting," which has lower cost and greater security of tenure — a program similar to public housing in the U.S. — was not associated with the same biological aging. The researchers think this may be because social housing provides more security for residents, meaning that they're less stressed about rent payments and the possibility of losing their home, and that the research may "demonstrate a pathway by which housing circumstances can 'get under the skin' with real and significant consequences for health.'"
Eviction moratoriums put in place in response to the COVID-19 pandemic gave many renters a much-needed reprieve. But since those have lifted, renters are, in many cases, responsible for paying back rent that they were unable to pay due to pandemic-related job loss or illness, adding to the burden of continually increasing rents. Median rent in 2023 is $2,023, compared to $1,629 in June 2019.
Renters make up around 35% of the population of the U.S. There are roughly 44 million renter households, and the average household size is approximately 2.6 people, meaning there are close to 114.4 million renters in the U.S. And certain populations are more affected by the rent crisis than others. A full one-third of renters have children living at home. And historically marginalized communities bear the burden of increased rent while also being paid less money at work than their white peers; fifty-eight percent of Black and 53% of Hispanic households in the U.S. are renters.
The U.S. Department of Housing and Urban Development states that if households spend 30% of their income on housing, they qualify as cost-burdened. According to recent estimates, the average American renter hits that benchmark. In New York City, the average rent-to-income ratio is almost 70%.
But it's not just residents of major metros that are feeling the squeeze; residents of smaller cities and towns are also being hit hard by rent hikes. For example, reporting from CNBC found that in Oxford, Mississippi, the average rent jumped 37% from May 2022 to 2023; in Englewood, Florida, average rent jumped 23%; and in Amagansett, New York, average rent jumped a whopping 63%. For many families, these hikes is rent cost mean forced eviction. Renters in the U.S. have vanishingly little recourse in the face of eviction, even in more renter-friendly cities that have policies to help them out.
Aside from radically altering the housing market, what can one do? Study co-author Emma Baker, a professor of housing research at the University of Adelaide, said that one major way to help families deal with this stress would be to enact "Policies to reduce the stress and uncertainty associated with private renting, such as ending 'no-grounds' evictions, limiting rent increases, and improving conditions." Whether or not government leaders will act on the rent crisis is another question altogether.