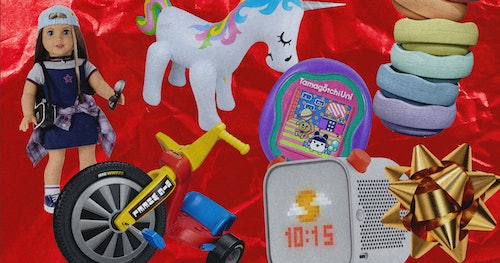 November 20, 2023
2023 Toys Of The Year: The Toys We've Played With All Year Long
Here at Fatherly, we've spent countless hours discussing, arguing, and thinking about what makes a toy great. We've tried to come up with universal rules — they shouldn't be loud and annoying; they shouldn't make a huge mess! — only to happen upon one counterexample after another. The only real thing we can agree on, and maybe the only thing that actually matters, is that a great toy is one a kid plays with over and over. So, this year, instead of offering up a catalog of shiny new toys fresh off the production line, we instead decided to write about the toys that are most present in our kids' lives. From light sabers to bikes, magnetic blocks to giant inflatable unicorn sprinklers, here are the toys that have proven themselves to our writers this year (and beyond).
The Toddler's Stepping Stones
Stapelstein Original Rainbow
Stapelstein
Though our Stapelstein Originals sit in the corner of our living room like a stack of giant pastel macaroons or scoops of otherworldly ice cream, our daughter (nearly 2) has nicknamed them "the rocks," perhaps in a nod to their amazing strength (each can support 396 pounds). Made in Germany out of expanded polypropylene, Stapelsteins are… how to describe them… modular, featherweight, interlocking bowl-shaped waterproof blocks. That it can be hard to say exactly what they are is a huge part of their appeal — the whole point is that they get endlessly reinvented through play. They're so lovely and light you're tempted to feel protective of these futuristic macaroons as they're stacked and unstacked, climbed, rolled, pounced upon, flipped into bowls, and hurled across the room, but (at least so far in our experience) they're indestructible in the hands of even the most ambitious toddler. It's the only toy we never mind seeing strewn across the living room floor, because they're just plain beautiful in any configuration.
The Bicycle Built For Two
Kazam Co-Pilot Trailer Bike
Kazam Bikes
Younger kids like to move. On any given sidewalk in any given neighborhood full of kids, that much is apparent. Scooters fly over cracks in the sidewalk and weave in and out of walkers; bikes plow down the street; wheelies, roller skates, and roller blades all have never gone away. You can always see a speed walking parent behind, trying to catch up. But when it comes to going the distance — the kind of long lingering rides, scenic bike trails, or rides across town that parents like — the energy ends. The whining starts. Kids like to move, but they don't, it seems, like to travel.
Which is too bad because traveling is full of joy and discovery, especially on a bike. So how do you let the kid move and also get them to go the distance? With a trailer bike of course. The Kazam, which is far and away the most utilized tool in all my parenting arsenal, is comfortable (my kid has fallen asleep on it!), easy to set up (it clips to the seat), and something you can drag for miles and miles (I've tapped out at around 20). Behind you, the kiddo can pedal their butt off, do nothing, banter easily, or give you a fist bump or playful goose. Which is to say, there's much bonding to be had. I can safely say that 4 of the top 10 parenting moments of my life have occurred around this bike. After all, it's just you, the kid, and the road — what's better than that? -Tyghe Trimble
The Toy Car With Real Speed
Remote Control Car
LAEGENDARY
The Story Teller
Yoto Player
Yoto
Getting my 6-year-old to fall asleep on her own used to be a huge bedtime battle. Things changed earlier this year when she received a Yoto player. Now, after we read together, I tuck her in and leave her to it. She falls asleep listening to Ella track down her fairy godmother in Ella Enchanted, or Mr. Fox tunnel his way into Boggis' chicken farm in Fantastic Mr. Fox. There's no screen, just a huge selection of stories (20K+) that provide the tuck-in she needs.
While I appreciate the Yoto's bedtime use the most, it gets used all the time — basically anytime we parents need a break. We bring it on long road trips and as a screen-free option for home days. It also plays music— so it doubles as the kids' first music collection, letting them choose the Beatles or Disney favorites to play while they're drawing, dancing, or getting ready for the day.
Yoto's subscription feature means my daughter gets to pick out two new stories that are shipped to her every month (they have everything from classics like Treasure Island to new favorites like Frozen.) And the Yoto app feature means we can purchase new digital cards that play instantly at anytime, and can control her Yoto if things get out of hand (you can only listen to "We Don't Talk About Bruno" so many times in a row). -Tess Gionet
The Doll That Brings Back The '90s
American Girl Dolls: Born In '89
American Girl
I saved a lot of toys for my kids including my and my sister's American Girl dolls, Molly and Samantha. My daughter loves caring for them, and we enjoyed the books and the historical discussions we had as a result. Then she got the dolls born in '89, Isabel and Nicki who live in 1999 and are waiting for Y2K. These AG dolls (Taylor's Version) are such a fun way to tell my kids about what life was like when I was their age. While Molly teaches them about their grandparents and great grandparents, the Hoffman twins teach them about me. It's been a great bonding experience to share these toys with my kids and recollect the fond and not-so-fond parts of the turn of the century, such as the computer accessory which, at the press of a button, makes the tortuous modem sounds of our childhoods. -Laura Wheatman Hill
The DIY Video Game
Pixicade Quest
Walmart
My kids love video games. It's a problem. As a parent who tracks screen time and really doesn't want to hear about how many Bokoblins were killed during Link's last raid, I've been on a Quixotic hunt for a gift that scratches the itch but also actually can replace the satisfaction of the game. Parents, I've found it. Pixicade Quest is a kit where your kids can create games on paper that are later "playable" when you scan them on your tablet. Through colored markers — red for things that will kill you, green for the character, blue for what you collect, and purple for moving parts — you can create a fairly complicated and, yes kids, fart-joke ridden, 2D scroller (think Mario). In our house it's a great replacement for drawing time that lasts longer and will draw the parents in too. -Tyghe Trimble
The Board Game For The Ages
Escape From Death Star Vintage Board Game
Amazon
Originally released in 1977, this intricate game basically turns the middle of the original Star Wars film into a great board game that's still addictive, nearly fifty years later. Imagine if Candy Land made sense, and the cards required more reading, had great illustrations, and a teeny-tiny bit of strategy. That's what Escape the Death Star is; a board game that encourages reading, basic math, and also will elicit phrases from your child like "Oh man, you gotta go back to the Trash Compactor, dad!" No Star Wars knowledge is required. In fact, this game should be your child's first introduction to Star Wars, because it perfectly captures what we all loved about the original movie back in the day. Although its fun to track down actual vintage versions of this game, a faithful reproduction was made a few years ago, which also comes with a bonus Grand Moff Tarkin action figure. -Ryan Britt
The Slimiest Slime
Elmer's Gue Slime Kit
Amazon
I've yet to meet a kid who doesn't love slime. If there is one thing I've learned as the wacky aunt, it's more fun to play with store bought slime than the latter. As slime has become increasingly popular thanks to social media, there are so many brands to choose from — some gooier, some greener, some smellier, and some weirder (qu'est-que-c'est banana cream pie slime?) In my search for a more perfect slime — not too dull, not so gross at to remind me of the germs my nieces and nephews bring home from daycare — I found Elmer's Gue. The glassy-clear slime comes with clay, glitter and other colorful add-ins that make for a less mess. Playing with squishy, stretchy slime is not just a relaxing sensory experience, the slime also washes out of clothing and even hair easily. So I can keep being the cool babysitter without getting into any sticky situations, and that is a big win for Auntie Slime. -Lauren Vinopal
The Blocks That Just Don't Quit
Melissa & Doug Wooden Magnetic Blocks
Amazon
I bought these magnetic geometric shape blocks on a whim and they have since become an MVP. Our six-year-old has played with them for years, creating things like spaceships, racetracks, a 'robotic lemon', and floor plans of houses. We take turns using them to make our own Pokémon (his: Bloomtopus, mine: Yellow Wobbler). The magnets live sometimes on our fridge, sometimes on the dishwasher. We tried the board that's included, but a larger surface seems to be more fun. If your family (like ours) has a builder, an arranger, or a liner-up of things, these magnets might be a great creative outlet for your kid too. -Julian Nowogrodzki
The One True Lightsaber
Ahsoka Tano Lightsaber Forge
Amazon
When a child watches their first Star Wars movie, it will likely be well after they've played Star Wars IRL. My six-year-old has never seen any of the films (way too scary for her) and we've mostly dabbled with various animated shows. But, like all children, she loves lightsabers. And luckily we live in a lightsaber toy golden age. For several years now, Hasbro has made something called "Lightsaber Forge," an affordable toy line in which you can mix and match different lightsaber segments to customize your own if you want. The latest one, the white-bladed saber wielded by Ahsoka in the new series is classic and fresh, in both the way it sounds and and looks — an elegant toy for a more civilized age. – Ryan Britt
The Most Classic Push Walker
RadioFlyer Classic Push Walker Wagon
RadioFlyer
We bought the tiniest wagon in the RadioFlyer fleet for our daughter when she was just learning to walk. It was a considered decision, made at a time when we still had enough ambient decisional anxiety to spend hours researching every cart, wagon, and push toy under the sun. We'll spare you all that — this thing is perfect. It's a great push toy for inside the house, with a front bumper for collisions with furniture and walls, and as toddlers get more assured, it's the perfect companion for exploring the outside world. A clicker installed against the wheels creates just enough resistance to keep the wagon from running away with early walkers, and it's a near-indestructible tank of a wagon that, now that our daughter's older, goes on and off road throughout the park and throughout the city, getting loaded with rocks, pinecones, groceries, books, you name it. Though the height is fixed, it doesn't feel like something she'll outgrow — it's just too well-made not to have endless fresh utility as she grows. -Julia Holmes
The Entry Game For Competitive Kids
Ratty Ruckus
Amazon
When your little one graduates from cooperative games, it's time to celebrate. It's not that cooperative games — where there's no real winner and everyone works toward a shared goal aren't a wonderful invention. But at some point you'll feel that the essential competitive spirit is missing.
For young ones, you probably can't jump right into the cutthroat games. The joys of arguments and fever-pitched wins will come, but maybe hold back until you won't get tears. First you need a game that has the just-right amount of luck and skill that that doesn't tip the scales for the adults or older siblings. A game like Ratty Ruckus from Skillmatics.
A mishmash of Memory, Othello, and a bit of Slapjack, Ratty Ruckus is a sincerely dynamic game with the object of getting four cartoonishly cute rats in a row — if you don't get blocked, caught in a net, or distracted by cheese. My family, a 6-year-old and 12-year-old and two adults — have been playing this for a year now and no one seems tired of it. Better yet, there have been shockingly few tears shed, even in lopsided losses. It's a good competitive time for families ready to level up their board gaming. -Tyghe Trimble
The Sound Machine
VTech KidiJamz Studio
Amazon
When my mother-in-law bought our kindergartener the VTech KidiJamz Studio DJ, I thought it was a passive-aggressive declaration of war. It was clear this toy was loud. From the amazing technicolor dream aesthetic to the myriad of buttons to the microphone, the setup looked like a kid's dream and a parent's nightmare. But then I found the headphone jack.
That 3.5mm hole turned a nightmarish toy into a creative musical outlet that was shockingly sophisticated. There are ten available instrument sounds that you can play and record in short loops, layer on some record scratching, make tempo adjustments, add drums or beats, and bring it home with a mic.
Which is what our 10-year-old did day and night — until our impressed then 14-year-old started tinkering with it. From VTech to Garage Band, the now 16-year-old teen is putting out true bangers and recording a multi-track song as an independent study project this year. They've built skills, but haven't outgrown the VTech, coming back to play with it because, hey, it's always fun to get a little bit funky. -Christian Dashiell
The Little Scooter That Could
Micro Mini2Grow LED Scooter
Micro Kickboard
When our neighbors passed down their well-loved Micro Mini — still going strong after 8 years on the streets of Brooklyn — it immediately became our 18-month-old's most treasured possession. That it was still beyond her reach in many ways hardly mattered — she was happy to walk it around the tot lot like a beloved pony. Then we got our hands on the Micro Mini2Grow LED Scooter, and she finally was able to join in on the big kid scooting fun. This ingeniously adaptable scooter is rideable for kids from 12 months into elementary school, with interchangeable handles, a detachable seat and removable foot pegs that let the Mini 2Grow evolve from a ride-on parents push from behind into a straddle bike into the classic Micro scooter. We've found that it's a great alternative to the stroller on longer walks outside or in tighter spaces inside. Oh, also, the wheels light up as kids get going, a little beacon as we head home at dusk. -Julia Holmes
The Perfect Playset
Octonauts Transforming Octo-Ray Playset
Amazon
In the '80s and '90s, playsets for your action figures were everything. But are there toys like that today for kids aged 3 and up? The Octonauts to the rescue! The indomitable modern animated series features a wonderful crew of anthropomorphized animals — who teach our kids amazing facts about the ocean and the natural world — and are the gold standard for peaceful, but exciting action-adventure stories. Introduced in the 2021 spinoff series, Above and Beyond, the Octo-Ray is the coolest Octonauts vehicle yet, and the transforming aspect makes it a base and ship simultaneously. The only downside to this playset is that it only comes with one Octonaut; Captain Barnacles. I recommend getting an extra pack of crew members. We're still playing with this one a year and a half after we got it for my daughter — so it's worth the investment. – Ryan Britt
The Pet Parents Can Get Behind
Tamagotchi Uni
Amazon
"THEY DIE?!" Ah, yes. The Tamagotchi is back teaching my 12-year-old, and a whole new generation of kids, that valuable lesson. They CAN die! Taking care of a digital pet is demanding and doesn't always work out. Parents who were kids in the '90s probably remember the Tamagotchi — a little pet that beeps when hungry, beeps when it eats, beep when it poops on the floor, beeps when it is bored, beeps when you leave it for too long wallowing in its own filth, and, yes, beeps when it is on its deathbed, becoming a ghost due to your horrible neglect.
Good news: Next to nothing has changed about the Tamagotchi. Yes, the new Tamagotchi Uni is a little more high-res, can connect to WiFi and play with other pets, comes with more competitive games, and has a whole bunch of accessories. But take it from me your kid isn't going to use any of that. The enduring draw of the Tamagotchi is that this sometimes cute, sometimes oddly misshapen thing demands your attention, your care, your, shall we say, love? And when you give it, that fleeting beep and happy dance is enough to keep you coming back. It's an enduring lesson in, well, parenthood that you can share with your kids. -Tyghe Trimble
The Ken That's Just Ken
Ryan Gosling Ken Dolls
Amazon
He's just Ken! Even if the Barbie movie wasn't exactly for little kids, everything about this year's biggest blockbuster had its heart in the right place. As in the film, it's been historically true that moms and daughters bonded over Barbies, but if you're one of those boys like me, who also grew up with your own Barbie and Ken, the immortal appeal of these dolls is clear. And now, for your son, your daughter, or maybe you, there are Ken dolls based on Ryan Gosling's version of the character from the movie. The one who wears the "I'm Kenough" hoodie is the rarest, the fur coat one is the most expensive, and the cowboy outfit one is the coolest, right? As of this writing a Mojo Dojo Casa House playset is sadly not yet available. – Ryan Britt
The One Game To Rule Them All
Magic: The Gathering (LOTR Edition)
Amazon
Thirty years ago, Magic: The Gathering was released by a scrappy little gaming startup called Wizards of the Coast. It was a small hit, drawing in fantasy-loving tween and teen geeks like myself and giving us an addictive game to play on weekends with our friends. Today, the game is massive, pulling over $1 billion in revenue for Hasbro every year. It has found such success by sticking to the basic formula of a great game that benefits from a collector-like mentality — expanding the world to the tune of 100 new sets a year. The scope is a bit dizzying and certainly impossible to keep up with but for the most hardcore. So let me help the parents out there who are Magic-curious or used to play and want to bring the kids in: Magic has crossed over with The Lord Of The Rings and it is glorious.
My six-year-old, who has read The Hobbit with me and started The Fellowship Of The Ring, was enamored with the cards, some familiar ("There's Gandalf! He's the BEST and strongest!!") and some new and curious (The Nazgûl art is frightening as hell). At first, he wanted to hear the stories of the characters, but he quickly got into game play by simply asking, "so what do they do?"
Magic is really meant for older kids — 11 and up will get to understand all aspects of the game — but with The Lord Of The Rings set (starter kits for two players can be found for less than $20) you can hold a younger kid's attention with plenty of dynamic back-to-back game play. Sure, you'll have to remind them of the rules, you'll need to build the decks for them, and games last quite a bit longer when your kid can't fluently read everything. But the allure is there for the kids and for parents there's the joys of both playing a sophisticated game and introducing characters in the greatest fantasy trilogy of all time ("Oh, Billy The Pony is NOT just a pony — he's maybe the bravest character in the book.") The best thing is that this game only gets better with age — so when you play with the little ones, you're building a partner for life. -Tyghe Trimble
The Unicorn Of Inflatable Toys
Sun Squad Inflatable Unicorn Sprinkler
Amazon
I never pictured myself as a person who wanted a yard, much less a yard that would sport giant inflatable creatures. And yet now, as father of a 6-year-old with an imagination bigger than anything Chat GPT can muster in a thousand years, I find myself in the position of knowing about the finer points of the care and maintenance for inflatable lawn creatures. This has not been an easy road and after many punctured dreams, I have arrived at the unicorn of all inflatable lawn toys, and I am happy to report it is a literal unicorn.
I'm talking about the Sun Squad Inflatable Unicorn Sprinkler. While it's available for purchase at Target, Amazon, Walmart, and other outlets, this creature might just as easily be found in the heart of the Lonely Mountain guarded by a cranky dragon. We chose it because we needed a sturdy and reliable lawn sprinkler that our daughter could play with that was actually tall enough for her. But when this magical unicorn entered our lives, we realized it was perfect.
For one, it is pretty easy to inflate, the sprinkler feature is great, but, crucially, is not required to make this fun, and it has four lawn stakes that are easy to pop in and out of the ground. All of this adds up to a summer lawn toy that can actually just stay up all the time. In our house, we trot out the unicorn every morning, even in "bad" weather. Our house is now known as the "one with the unicorn in the front yard." This too can be your fate, and to be honest, it's not the worst — especially alongside the unbridled joy it brings my kid. The unicorn is here to stay — an honorary member of the family. -Ryan Britt
The Tricycle That Never Went Away
Big Wheel Big Spin
Schylling
When I opened the box housing the new "original" Big Wheel and unpacked its primary colors of red, yellow and blue, I was nearly overwhelmed by the nostalgia for these big, powerful, plastic rovers. Invented in the 1960s by a designer who deconstructed the traditional tricycle and flipped it upside-down for a lower center of gravity and more leverage on the pedals, the Big Wheel has been synonymous with a feeling of self-propelled power (and all that goes with – independence, sensible limit-testing) for generations since. Over the decades, variations on the big wheel have come and gone, but there is nothing like the original, back in production this year, thanks to Boston-based classic-toy maker Schylling. It's a legitimate thrill to watch a child of the 2020s take off on one of these and experience the rumble of the big hollow wheels, the accelerating click of the back wheels gaining speed, the exhilarating spinout when the handbrake is yanked upward at just the right moment. It's "just" a Big Wheel, but the amount of intergenerational pride and joy it brings will catch you by surprise. – Julia Holmes
The Easel That Does All You Need It To
MÅLA Easel from IKEA
IKEA
The internet is awash in artist setups for precocious children: white-washed easels photographed in the sun-streamed corners of perfectly curated homes in which "creativity is happening." We're all susceptible to these fantasies, but the reality is that kids don't care. To the extent that they feel – impulsively, quixotically, obsessively – like making art, everything needs to be easy and accessible as possible, in order to make it fun. That's why we still give the IKEA art easel to every niece and nephew who comes along. It has zero bells or whistles, with a whiteboard on one side and a blackboard on the other, and a tool trough that's totally adequate for a few paintbrushes and crayons.
We keep ours loaded up with an IKEA paper roll, so kids and adults alike have a near-infinite scroll at the ready for whatever creative impulse strikes. At $29.99, it's at least $100 cheaper than most of the easels out there, and it's just as good at facilitating art-making, if not better. Self-consciousness is the biggest impediment to creativity, and whatever aura of preciousness settles around an object designed to please adults as much as children (at a high price point), we'd argue is less conducive to real creativity than this well-made, incredibly useful, adaptable and totally unprecious classic art tool from the Swedes. -Julia Holmes