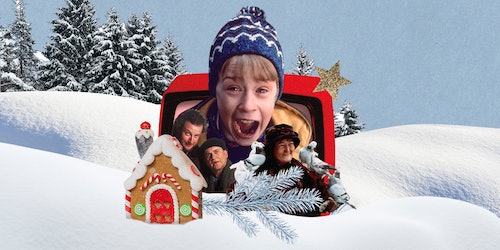 November 1, 2023
The 25 All Time Best Holiday Movies, Ever
Since putting a TV in the living room became a staple of family life, the idea of watching a holiday movie together has become as much of a tradition as lighting candles or decorating trees. For parents, especially, a great holiday movie can mean so many different things. Sometimes it's a movie to bond over with your kids. Sometimes it's a date-night movie to watch with your spouse. And sometimes, it's just a movie that happens to have a holiday theme in it, but it's a movie for you.
In the spirit of the holidays — and holiday movies — here is Fatherly's 100% subjective, totally biased, utterly unfair ranking of the 25 best holiday movies, ever. Some are for kids. Some are for grown-ups, and some are just for us. And if we did it right, that means there's something here for everyone.
25. Planes, Trains & Automobiles (1987)
— Paramount Pictures/Moviepix/Getty Images
There are very few Thanksgiving movies in the world. There may be a reason for this, but if you're going to watch a Thanksgiving movie, we think it's best to choose one that has not just John Candy in it but Steve Martin, too.
24. The Christmas Chronicles (2018)
— Netflix
If there's one beloved '80s actor who can literally just start talking and we're already hooked, it's Kurt Russell. When The Christmas Chronicles was first announced over five years ago, it seemed like a cheap attempt to get people our age to watch Kurt Russell playing a cool dad-ish version of Santa. That ploy worked.
23. Scrooged (1988)
— Paramount
The Bill Murray quasi-horror remake of A Christmas Carol might be one of those movies you suspect is a better idea than an actual movie. But you'd be forgetting the incredible performances of David Johansen, Alfre Woodard, Carol Kane, and crucially, Karen Allen. Come for the weird Christmas movie reboot, stay for the charm of Karen Allen in one of her most underrated movies ever.
22. Doctor Who: A Christmas Carol (2010)
— BBC
While it's true this is technically a TV special, and this list is mostly about movies, we've let a few movie-ish TV specials sneak in here. Here's why this one in particular deserves to be on this list: No other version of A Christmas Carol sees the Scrooge-type figure being reformed by actual time travel! Plus, there are very few Christmas-things that embrace jumping the shark by having a character literally ride a shark.
21. The Santa Clause (1994)
— Archive Photos/Moviepix/Getty Images
When Tim Allen does a manslaughter on the real Santa Claus, he's forced to adopt the powers of the lord of Christmas. Seriously! The Santa Clause begins as a very dark movie, but let's face it, in 1994, making TV dad Tim Allen literally into Santa was a stroke of genius.
20. Eight Crazy Nights (2002)
— Sony
Adam Sandler's animated Hanukkah movie is too immensely popular not to be included on a best all-time holiday movies list. Sandler is one of the funniest celebrity dads of all time, and yes, we know this movie has a poor Rotten Tomatoes score, we just don't care.
19. The Holiday (2006)
— Sony
Move over Love, Actually! The best date-night holiday rom-com is this deeply underrated film. We're partial to saying that School of Rock is peak Jack Black, but he's actually straight-up amazing in The Holiday. Anybody's significant other who suggests this as an after-the-kids-go-to-bed holiday movie deserves extra egg nog.
18. Friday After Next (2002)
— New Line Cinema
You'll be forgiven if you don't hold the third film in the Friday franchise as high as the first two. And yet, because this movie is mostly set at Christmas, you're really missing out on a modern comedy classic. Oh, what's that you say? This came out 21 years ago? Right, that's what we said, a classic.
17. A Charlie Brown Christmas (1965)
— Apple
Of course, the brilliance of the Peanuts characters is that none of them are really children. They're all adults trapped in childhood. Sound familiar? The reason why A Charlie Brown Christmas gets better and better every year is because the older we get, the more we actually relate to Charlie Brown.
16. Frosty the Snowman (1969)
— CBS Photo Archive/CBS/Getty Images
OK, so this is a movie that is basically slightly longer than your average sitcom episode. And yet, the pathos and depth of this animated Frosty loom large in the collective psyches of kids everywhere. Why is it so sad and wonderful to see Frosty melt and then come back? Is this the greatest adaptation of a song in movie form ever?
15. Miracle on 34th Street (1994)
— Disney
Apologies to the 1947 classic, but the 1994 remake with Mara Wilson, and everyone's favorite dinosaur cloner, Richard Attenborough, is endlessly watchable today. Yes, we needed the first one, complete with actual references to Macy's, but the dreamy '90s version feels closer to our hearts now, probably because this is now an old movie, too.
14. Rise of the Guardians (2012)
— Dreamworks
This deeply underrated movie basically reimagines all the best holiday mascots as superheroes. While it could be argued this is an all-season holiday movie, Santa Claus (Alec Baldwin) and Jack Frost (Chris Pine) are the two main characters. If you've got two wintery heroes among your leads, that's a holiday movie. But seriously, if you've missed this one, it's endlessly fun and great for kids who want a little more action in their holiday movie.
13. Jingle Jangle: A Christmas Journey (2020)
— Netflix
Though it's one of the better contemporary kids musicals, there's a chance you overlooked this one because it came out on Netflix smack-dab in the middle of the 2020 lockdowns. Originally conceived as a staged play, the movie has artistry to make it feel big and small simultaneously. Also, Keegan-Michael Key as Gustafson is fantastic.
12. The Nightmare Before Christmas (1993)
— Sunset Boulevard/Corbis Historical/Getty Images
We sometimes can't decide if this is a Halloween movie or a Christmas movie, which is part of why it's so great, right? If one of the best Halloween movies is also one of the best Christmas movies of all time, that means it's probably one of the best things humans have ever made, right?
11. The Christmas Toy (1986)
— Jim Henson Productions
What if we told you that Toy Story was a massive rip-off a superior made-for-TV movie from 1986? When one favorite Rugby the Tiger is threatened to be replaced by Meteora, queen of the Asteroids, toys go berserk, all on Christmas Eve. If you grew up in the '80s, there's a chance you already remember this movie, even if the Tiger looks like something straight out of Too Many Cooks. Either way, this movie still rocks, if only because it out Toy Story-ed Toy Story a full decade early.
10. Ghostbusters II (1989)
— Columbia/Sony
Okay, we know this is a controversial choice. But, hear us out: the second Ghostbusters movie is deeply underrated, way more family-friendly than the first one, and features the Statue of Liberty walking. The action also takes place over Christmas and concludes on New Year's Eve. Come on!
9. It's a Wonderful Life (1946)
— Paramount Pictures/CBS Photo Archive/CBS/Getty Images
We're gonna go out on a limb and say that this movie is pretty good. Have you seen it? Have you heard of it? That Jimmy Stewart guy is all right. The part where he slips into another dimension where he doesn't exist is like the whole movie. It's pretty cool multiverse action. Not like Doctor Strange-level multiverse stuff, but sadly, those movies aren't really holiday movies. Sorry, Doctor Strange! Jimmy Stewart wins this round.
8. Rudolph the Red-Nosed Reindeer (1964)
— NBC/NBCUniversal/Getty Images
The weirdest thing about this movie is that we never talk about how weird it is. No storybook version of Rudolph matches up this this bonkers take on the famous reindeer. Even the basic song doesn't exactly describe the plot of this film. Every time you watch it, you'll find something stranger, and more bizarre, which is why it's a freaking classic.
7. Elf (2003)
— New Line Cinema
We're not quite sold on the absentee father thing running through this movie, but Will Ferrell is too irresistible in this movie for words. An instant classic the moment it was released, the only complaint we have about Elf today, is that we can't believe its somehow been two decades since we first saw it.
6. The Muppet Christmas Carol (1992)
— Disney/Jim Henson
There are several wonderful actors who have played Scrooge: Albert Finney, Patrick Stewart, Tim Curry. We could go on. But the greatest Scrooge of all time is easily Michael Caine, who also just happens to star in the most family-friendly version of the Dickens classic ever. From 5-year-olds to 105-year-olds, this version of A Christmas Carol has yet to be topped.
5. A Christmas Story (1983)
— Metro-Goldwyn-Mayer/Archive Photos/Moviepix/Getty Images
A cult classic that represents Americana in a way that is both twisted and honest, A Christmas Story might be more relevant now than ever before. Ralphie isn't really a bad kid, and even if his journey and inner struggle stop just short of relatable, there is timeless truth to this strange, funny film.
4. National Lampoon's Christmas Vacation (1989)
— Archive Photos/Moviepix/Getty Images
It's the one Chevy Chase National Lampoon movie where they don't actually go on vacation but instead embark on the quintessential late '80s/early '90s suburban holiday experience. Most of us didn't grow up to be Clark Griswold, thank God, which makes the experience of watching this movie a kind of cautionary tale.
3. Die Hard (1988)
— Archive Photos/Moviepix/Getty Images
At some point in the recent past, people actually debated whether or not Die Hard was, in fact, a Christmas movie. Luckily, we don't have to live in that world anymore. The kids who watched Die Hard on Christmas have grown up to be dads, and when the younger kids are in beds, dreaming of sugar plum fairies, it's time to check in with our immortal, and indestructible, saint of action and Christmas, John McClane.
2. How The Grinch Stole Christmas (1966)
— ABC Photo Archives/Disney General Entertainment Content/Getty Images
Is this technically a movie? Although there have been two much longer movie versions of the Grinch — starring Jim Carrey in 2000 and Benedict Cumberbatch in 2018 — the original 1966 version, narrated by Boris Karloff, remains the best. This does what holiday movies should do: bring people together, freak you out a little bit, put earworms in your brains, and above all, celebrate the fact that all forms of love, even Grinchy love, will always triumph in the end.
1. Home Alone (1990)
— Fox
The immortal story of parents so horrible that they leave a kid behind for Christmas vacation. And then he has to fight criminals! On paper, it sounds like Stephen King could have written it, or maybe even Neil Gaiman. But the reality is that Home Alone remains a heartwarming, hilarious holiday movie that is literally for every single age. "Rockin Around the Christmas Tree" never sounded better than when it was part of an elaborate booby trap constructed by a child.