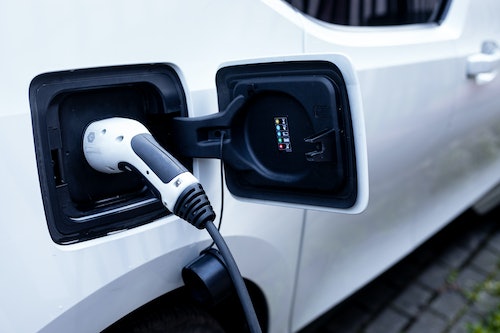 October 13, 2023
Residents From One Lucky State Can Get $6,000 More Off Their Next EV
— Tatsiana Volkava/Moment/Getty Images
If you've been looking at buying an electric vehicle (EV), you probably already know about federal tax credits that can get you up to $7,500 off the cost of your new car. You may also know that EVs are cheaper to "fill up" than traditional gas-powered vehicles. You may also-also know that studies have found that EVs are typically cheaper to own long-term than gas-powered cars. But more pressingly, you may know that EVs are just expensive at the lot — estimates suggest the average price of a new EV is north of $64,000, and a used EV is just north of $40,000. That sticker price may be so expensive that it's hard to justify the cost of the switch.
Now a new program is offering an added financial incentive for people to switch to an EV — and it could save some drivers thousands of dollars not just on the cost of an EV, but on the maintenance of other cars, too. Coloradans will be able to exchange an old or high-emitting gas car for an electric vehicle with a rebate of up to $6,000, savings that could put cars that are significantly more expensive at purchase much more within reach.
According to The Denver Post, the Colorado Energy Office's program will offer the incentive to allow eligible participants to exchange an old or high-emitting vehicle for an EV. The publication reports that eligible participants must meet the income requirement of making 80% or less than the median income in the county where they live — or about $65,800 or less for a single filer and just south of $94,000 for a family of four.
The gas or diesel vehicle to exchange must be in working order and at least 12 years old. If it's a newer vehicle but doesn't pass the state's emissions test, it will also qualify. Also, the person applying for the rebate must hold a valid Colorado Driver's License and show proof of address and income. And unlike the federal tax credit for EVs, this rebate will apply automatically — making it cheaper right off the lot, not a few months later when you get your tax refund.
"The VXC rebate will partially cover the upfront cost of the EV at the time of purchase or lease from an authorized automobile dealer," the Colorado Energy Office notes on its website. The rebate can be used toward a point-of-sale rebate to purchase or lease an electric vehicle from an authorized automobile dealer within 180 days of receiving the rebate.
Beyond these off-the-lot savings, some research from companies like Car and Driver has found that driving an electric F-150 rather than a gas-powered F-150, for example, is about $2,700 cheaper per year for the first three years — with progressively lower costs of operating, fuel, and maintenance for every year after.
Qualifying EVs include battery electric vehicles and plug-in hybrid electric vehicles with a manufacturer's suggested retail price of $50,000 or less. "For a used electric vehicle (battery electric or plug-in hybrid electric), the final negotiated purchase price must be $50,000 or less," the Colorado Energy Office states.
Those who meet the income restrictions can apply online for the program on the Colorado Energy Office website, and the application process will remain open until the allocated $1.8 million for the year is met.
According to the International Energy Agency, EVs saw exponential growth in sales in 2022, exceeding 10 million or nearly 6% of new vehicle sales, and the rate continues into 2023. And expert predictions suggest there will be 145 million EVs in use by 2030.
However, disparities in access to these cleaner (and, in the long run, cheaper) cars are inherent in the model: EVs are expensive, even if they are cheaper to maintain and fill up.
But incentives like the Colorado initiative and federal programs like the Used Clean Vehicle Tax Credit and the 2023 Federal EV Tax Credit, which offers credits of up to $7,500 toward the purchase of a new electric vehicle, are helping to make EVs more affordable.