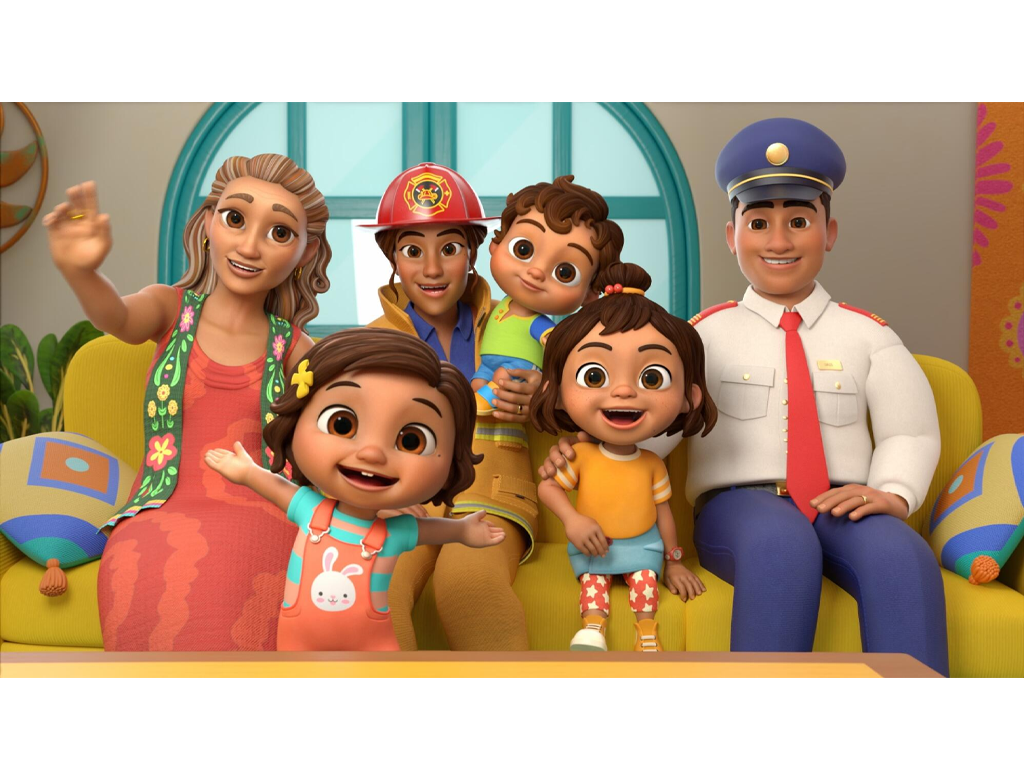 October 17, 2023
'Nina's Familia' Brings Mexican Culture to Life in New CoComelon Spin-Off
The CoComelon universe is expanding once again and this time it's fan favorite and classmate to JJ, Nina, bringing the story of her familia into homes everywhere. Nina's Familia is an extension of CoComelon, but now from the Reyes family perspective.
Through the same style of three-minute songs and nursery rhymes that made CoComelon a worldwide phenomenon, children will now experience stories of family, social-emotional learning, positivity, and healthy habits through the lens of a bilingual multigenerational Mexican-American family.
It wasn't an accident that Moonbug Entertainment, the brand behind the CoComelon franchise chose Nina's family for their next spin-off series. "Moonbug has a lot of employees from different Latine backgrounds," says Anthony Falcón, the creative lead behind Nina's Familia. His own Mexican-American heritage played a big part in bringing Nina's Familia to life.
"We held a lot of focus groups not just with moms but with moms from other Latine backgrounds to find out what was most important to them and what they wanted us to share," he explains. "Between what was happening internally and externally I think that is what drove a lot of the passion in trying to create Nina's Familia."
One of the things that sets Nina's Familia apart is that much of the series is either partly, or fully in Spanish. "We wanted to make sure we were showcasing a bilingual household," Falcón shares with Parents. "Around 70% of the episodes of Nina's Familia are fully in English and then about 30% of them have different forms of Spanish."
Whether it's the addition of chilaquiles in the popular 'breakfast song' or well-known Spanish language nursery rhymes, families can look forward to learning more about Mexican and Mexican-American culture through the Reyes family. Families with Latine backgrounds can be sure they have thoughtful representation on screen for their little ones.
Music is not the only way the Mexican-American culture is brought to life in the series. Nina's home, clothing, and even her hair were all thoughtfully designed by Falcón and the creative team that worked on the series. Moonbug Entertainment has done a great job diversifying the CoComelon universe first with the Green family in It's Cody Time and now with Nina's Familia.
"The goal with Nina's Familia is for Latine kids to see themselves represented on screen every day and to share Nina's family's culture with the world," Falcón says.
Anthony Falcón
The goal with Nina's Familia is for Latine kids to see themselves represented on screen every day and to share Nina's family's culture with the world.
— Anthony Falcón
One thing is for certain, we have a lot to look forward to when it comes to learning about Nina and the rest of the Reyes family. "Nina's family is a very busy family. Her mother is a big part of the community as a firefighter, her father has traveled around the world as a pilot and her abuelita has helped instill culture into the home and brought in a lot of love and compassion, really bringing this into a united multi-generational household which is really beautiful," Falcón says. "The same adventurous spirit that mom has to help the community, we'll see that in Nina in how she helps her friends and family. We'll see her father who has traveled the world give her the courage to want to fly and try big and bold things".
Nina's Familia promises to be a welcome and fun addition to your child's learning that also honors the Latine culture in beautiful ways. You can watch Nina's Familia on YouTube.
By Tanay Howard | Parents.com