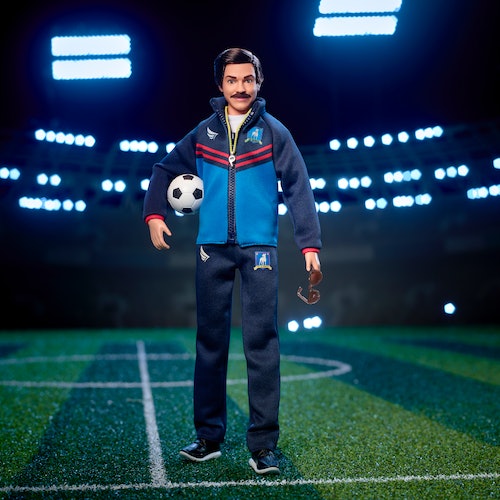 October 24, 2023
New 'Barbie' Dolls Feature Three Iconic 'Ted Lasso' Characters — But Somebody Is Missing
— Mattel
For those of us missing the (gold) fish out of water dramedy of Ted Lasso — all about the relentlessly positive titular soccer coach and his ragtag group of football players, which wrapped its third and likely final season earlier this year — never fear: Barbie is here to save the day! Much like she saved the box office this year with her $1 billion-plus haul. Ted himself would approve of her crusade to rid Barbieland of toxic masculinity and patriarchy. And now, Mattel has made our dreams come true with official Ted Lasso dolls, which will be sold online at the Mattel shop very soon.
The three-doll lineup will feature Ted, played in the show by Jason Sudeikis, and resident fashion icons, Keely Jones (Juno Temple) and Rebecca Welton (Hannah Waddingham), which actually makes perfect sense. If there are three characters that you want your kids to actually aspire to be like, Ted, Keely, and Rebecca are great. Sadly, this means there's not a doll for the beloved foul-mouthed, hairy-chested true hero of Ted Lasso, Roy Kent.
However, we can imagine Roy's niece Phoebe playing with these dolls, swapping out Keely's hot pink evening gown and black fur stole with girlfriend Rebecca's work-appropriate black pants and silk blouse. Meanwhile, Lasso's Richmond AFC team tracksuit is giving off big Kenergy, while his accompanying soccer ball accessory could be a weapon in the Ken showdown at the end of the Barbie movie.
Some might say that these collector's items, which retail for $50 each, will be destined for the display case rather than the toy box, but in the spirit of Ted Lasso, each to their own. Right?
Right now the only question is: Will there be more dolls from the Ted Lasso universe after this? Roy Kent is here, he's there, he's every-f*cking-where, but not in a Barbie doll box. As of now, Mattel can't confirm a Roy Kent doll in the future, but we're also wondering about other characters.
If more Ted Lasso folks were turned into dolls, Mattel would have to re-up their Totally Hair Kens from the '90s to include the enviable hairstyles of the duplicitous gray-haired Nate Shelley (Nick Mohammed), perfectly-coiffed journalist Trent Crimm (James Lance), and headband-accessorized Jamie Tarrt (Phil Dunster)—do, do, do, do, do, do. (Sorry, we couldn't resist. And just when you'd finally gotten that damn song out of your head.) Or how about a Cool Shaving Coach Beard (Brendan Hunt)? #Believe in the endless possibilities.
Ted Lasso streams on AppleTV. The Ted Lasso Barbies are in the Mattel shop online.