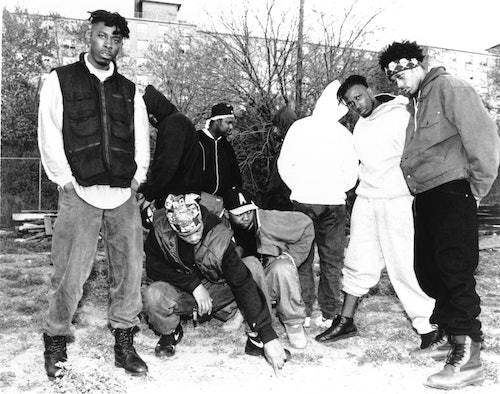 November 9, 2023
30 Years Ago, This Massive Hip-Hop Debut Album Changed the Game Forever
— Al Pereira/Michael Ochs Archives/Getty Images
When Wu-Tang Clan dropped its debut album, Enter the Wu-Tang (36 Chambers) on November 9, 1993 nobody, with the possible exception of RZA, the group's producer, leader and mastermind, could have envisioned how massively influential the album would prove. That's because RZA didn't just have a sound and an aesthetic that were radically new yet felt soothingly old and familiar; he had a vision the likes of which Hip Hop had never seen before. RZA wasn't just one of the greatest producers in Hip Hop. He was a visionary at the apex of his extraordinary powers.
Enter the Wu-Tang didn't just introduce a star rapper. Instead it unleashed an entire galaxy of complementary stars. The album turned nine rappers nobody had heard of before into nine MCs everyone wanted to collaborate with.
An album with nine rappers should sound like a compilation album. Yet RZA assembled a massive assemblage of rappers with such amazing chemistry that Enter the Wu-Tang Clan sometimes feels like the work of one massive mind with nine impressive mouths. That mind belongs to the RZA, who is so sharp that he's seen as the brainiest member of a collective that includes GZA, a revered wordsmith whose nickname is literally The Genius. RZA brought together a once-in-a-lifetime collection of emcees who each brought something important and essential to the table. RZA was the sonic mad scientist whose run producing the Wu-Tang Clan's debut and all of the debut albums of its individual members ranks as one of the greatest periods for a producer in any genre.
Method Man was the strikingly handsome, effortlessly charismatic leading man. Ghostface Killah was just as charismatic but more unpredictable. He was a loose cannon in addition to being arguably the best rapper in the group.
If Method Man and Ghostface Killah were Richard Roundtree's Shaft or Ron O'Neal's Superfly then Ol' Dirty Bastard was Rudy Ray Moore's Dolomite. He was a deranged clown whose comic shenanigans served as an essential counter-balance to the gritty intensity of the rest of the Clan. Listening to Enter the Wu-Tang in 2023 it's remarkable how raw and hungry the album still sounds. That rawness is lyrical as well as musical. Enter the Wu-Tang didn't just have profanity in verses; it had swear words in the song titles as well.
Enter the Wu-Tang Clan is so rough that it almost sounds like a demo. RZA and his Super-Friends were Hip Hop to the core yet the energy on their rightfully revered debut feels punk. It's all about being loud, new, aggressive and unique. The album took the lyrical concerns of gangsta rap in an exhilarating new direction. Wu-Tang Clan's lyricists rapped about selling drugs and guns and crime as an everyday reality but with a RZA-crafted pop mythology all its own rooted in his love for martial arts and multiple aliases.
RZA is a brilliant businessman as well as an artist. He understood that you needed different kinds of product in order to appeal to different kinds of people. He knew that in order for Wu-Tang Clan to be as big and powerful as he envisioned it would need to appeal to an audience beyond hardcore Hip Hop heads.
In order to reach the masses you needed soul. You needed slickness. You needed something that seemingly everyone could relate to. That's what he found in "Can It Be All So Simple", the album's third single and a song that anticipates the soul sample-based production of early Kanye West and Just Blaze. It's a song about the past but where most Hip Hop back in the day songs romanticize and idealize the past, "Can It Be All So Simple" instead offers a bracing dose of reality. There's nothing romantic or idyllic about the past in the silky smooth anthem, just a lot of violence, ugliness, poverty and desperation.
But if the lyrics are aggressively non nostalgic the sound is rooted irrevocably in the silky grooves of the 1970s. Lyrically and musically, Enter the Wu-Tang is rooted in 1970s pop culture, in the kung fu movies RZA samples regularly, blaxploitation and comic books.
From the very beginning, RZA's vision was cinematic. Before he wrote, directed, acted and composed scores for movies RZA was making miniature movies through his songs. The primary samples of "Can It Be All So Simple" are movie-based but not in the manner you might imagine.
It's not surprising that "Can It Be All So Simple" samples Gladys Knight and the Pips but it is surprising that the song sampled is her cover of Barbara Streisand's theme song to The Way We Were, a a kid of non-hip-hop, dewy pop nostalgia.
"C.R.E.A.M" (which stands for Cash Rules Everything Around Me) similarly proved that it's possible to make major mainstream moves without sacrificing underground authenticity.
Like "Can It Be All So Simple", "C.R.E.A.M" looks back at the past with horror, mortification and an appreciation that history is not destiny and that with the right breaks young black men who grew up struggling and hustling could change music forever and become rich and famous in the process.
That's just what Wu-Tang Clan proceeded to do over the course of the 1990s. Everything that the group would accomplish, individually as well as collectively, could be found in embryonic form on its debut. Thirty years on Enter The Wu-Tang Clan still feels bracingly new. That will undoubtedly still be true thirty years from now. It's very much a product of its time but also timeless.
Enter the Wu-Tang Clan (36 Chambers)
Amazon